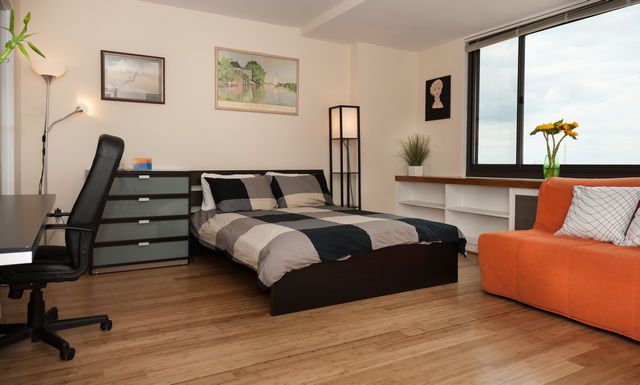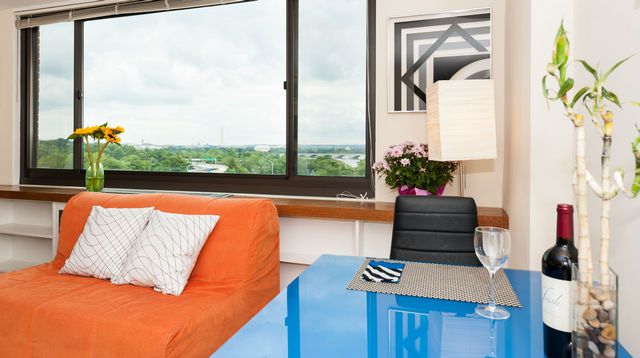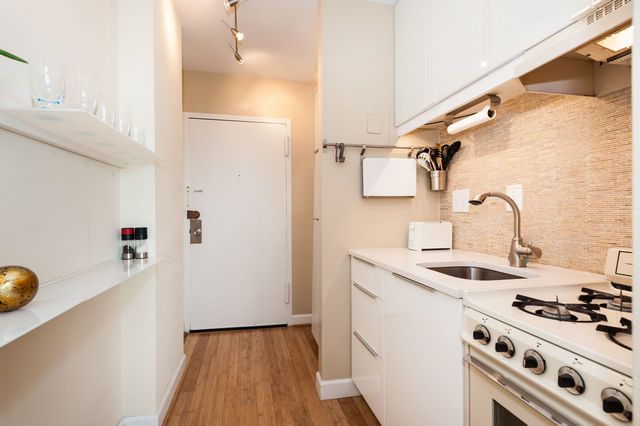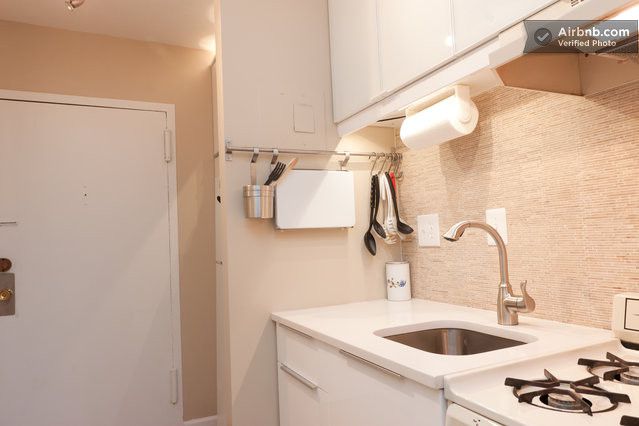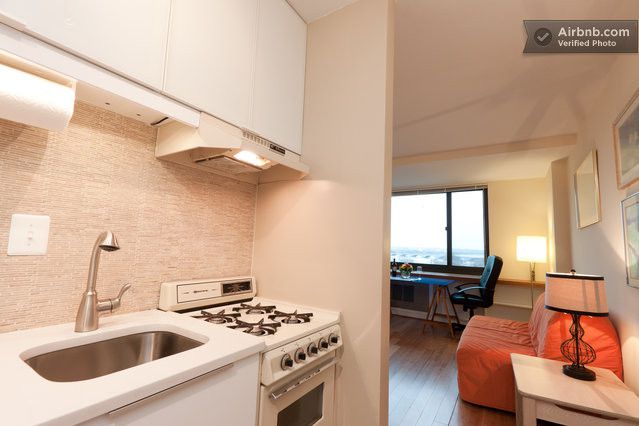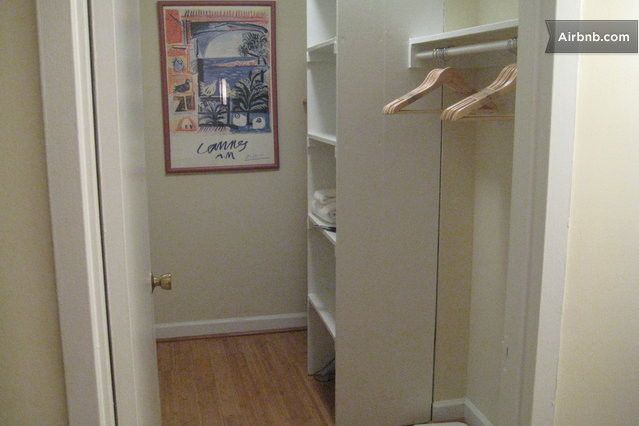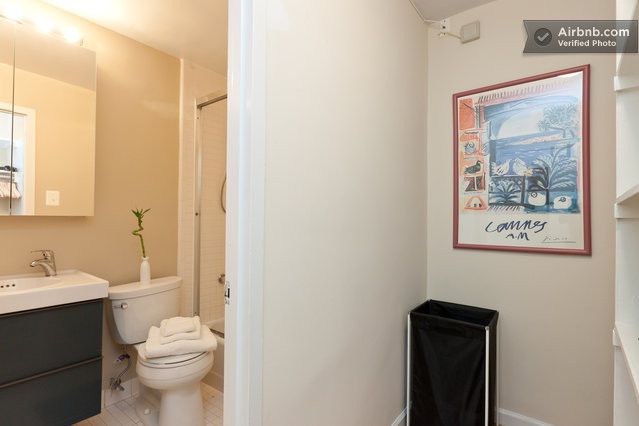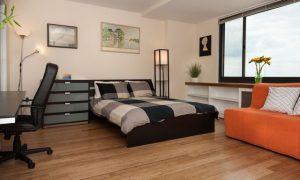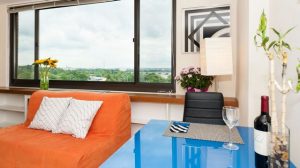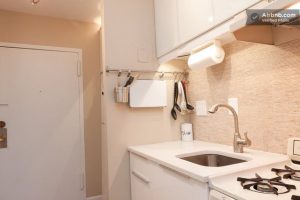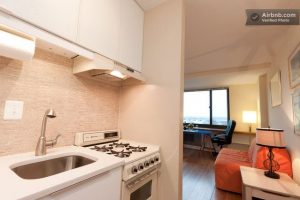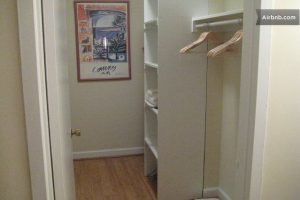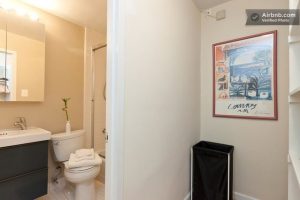 The Space
This ultra-convenient studio overlooks the Potomac River and Washington D.C.'s magnificent, milky-white monuments. The view includes the Lincoln and Jefferson memorials, Washington Monument, Capitol dome and the Kennedy Center, as pictured.
It's one of several high-end studios — fully furnished and equipped — for rent at River Place, a popular resort-style complex only minutes from DC and but a five-minute walk to the Rosslyn metro station. An uncommon collection of major attractions is within easy walking distance.
This newly renovated studio, which is on the 4th floor, features a full-sized bed and a convertible sofa/sleeper. Included are new high-gloss kitchen cabinets with accent lights; new quartz kitchen counter top; new wall-mounted 32-inch flat panel TV; new bamboo hardwood floor; new, high-performance picture window and blinds; new bathroom vanity, crushed marble sink and medicine chest; fresh paint throughout.
River Place South is the jewel of the leafy, gated community, which provides easy access to such major area thoroughfares as the George Washington Memorial Parkway, Route 29 and Interstate 66, the only Interstate highway running west from Washington D.C. into northern Virginia.
The apartment includes its own, dedicated, high-speed Wi-Fi network, separate from a slower, building-wide network.
The popular South building also houses a large fitness center with late-model cardio and strength equipment. The gym re-opened in March 2014 after more than $250,000 in renovations and the purchase of new equipment.
The apartment itself is sunny with a huge wall-to-wall picture window framing the stunning view; walk-in closet and built-in bookcases. It's fully equipped with kitchenware and linens. This unit is 401 square feet and includes an efficient galley kitchen with full-size refrigerator, disposal and microwave oven.
From the apartment, you may walk across the picturesque Key Bridge in about 10 minutes to D.C.'s trendy Georgetown neighborhood of ethnic restaurants, lively bars and busy nightlife. Everything is at your fingertips here — it's perfect for touring Washington D.C. and surrounding areas. Also within walking distance is Theodore Roosevelt Island, an 88.5-acre nature preserve in the Potomac crisscrossed by nature trails and boardwalk that transports you from the urban environment. Zipcar and Capital Bikeshare stations are within a few minutes' walk.
A concierge is on duty in the River Place South building's upscale lobby. Community amenities include a resort-style outdoor pool with lap lanes and Jacuzzi-like hot whirlpool. Also featured: the in-house health club, including sauna and steam room; an on-site grocery store (open until at least 11 p.m. 7 days a week), hair salon and a dry cleaner. On-site parking may be available by special arrangement. New "smart" washer/dryers are on the building's first floor, operated with a credit card or quarters and capable of sending an SMS text message when they have finished a load.
River Place lies just opposite the Iwo Jima Monument National Park — home to the huge sculpted rendering of the iconic flag-raising photo taken during the Battle of Iwo Jima by Associated Press photographer Joe Rosenthal. The property is close to jogging and biking trails along the Potomac, upscale shopping in nearby Clarendon and acclaimed restaurants. You won't want to miss the successor to Ray's Hell Burger, where President Obama treated then-Russian President Dmitry Medvedev to a fat, juicy sampling of what many still deem the area's best hamburgers.
For touring, the apartment's location is perfect: the Rosslyn Metro station is an intersection of the Orange and Blue metro lines. D.C.'s Ronald Reagan National airport is a straight shot by the metro's Blue line. So is the Pentagon. One stop away on the Orange line is DC's Foggy Bottom Metro stop, steps from the U.S. State Department and the campus of George Washington University. Separately, a $1 shuttle bus whisks you over the Key Bridge to Georgetown from Rosslyn and then to DuPont Circle, the heart of DC's intellectual life. Nearby are many of the nation's most prestigious think tanks and research institutions, including the Brookings Institution, the Carnegie Endowment for International Peace, the German Marshall Fund, The Eurasia Center, the Peterson Institute and the Paul H. Nitze School of Advanced International Studies of The Johns Hopkins University. They typically feature public policy-related events such as expert panel discussions that are free and open to the public. Check their online calendars for listings.
Restaurants, shops, post office, bank, CVS drug store and Arlington's showcase Artisphere are all just around the corner from River Place — either on or next to Wilson Boulevard, Arlington's main thoroughfare.
NOTES:
The Iwo Jima Marine Corps War Memorial adjacent to River Place is a major D.C. landmark, visited by more than one million people annually. It's home to the Sunset Parade, a free performance Tuesday evenings during the summer months by the United States Marine Drum and Bugle Corps with the Marine Corps Silent Drill Platoon. Crowds also gather at the Memorial on the 4th of July to watch the national fireworks display
The D.C. Circulator bus runs between DuPont Circle, Georgetown and Rosslyn. For just $1, you can hop on the Circulator at the corner of 19th St. N. and N. Moore St. — about five minutes' from River Place — and zip across the Key Bridge into D.C. For the return trip, pick up the bus in DuPont or Georgetown. Buses run every 10 minutes from 7:00 a.m. – midnight Sunday through Thursday and 7:00 a.m. – 2:00 a.m. on weekends.
There are two private long-haul bus companies that run between Rosslyn and New York City. Vamoose Bus provides service several times daily from 1801 N Lynn Street in Rosslyn — about five minutes' walk from River Place — to Penn Station/Madison Square Garden in midtown Manhattan.. The cost is as low as $30.00 each way. Tripper Bus provides daily service from nearby 1901 N. Moore Street to the Macy's flagship store on 34th Street in Manhattan.
Kauffman, a foundation for entrepreneurship, recently identified the geographic epicenters where the nation's fastest-growing companies are located. The No. 1 entrepreneurial hot spot in the nation today is not Silicon Valley nor Seattle but Washington-Arlington, according to the Dec. 22, 2012, issue of Barron's Magazine, a Dow Jones publication.